Why does website speed matter?
These days everybody is in a rush. People love to get things done fast, everything needs to be easily accessible and efficient. If there's one place first impressions are absolutely critical, it's your website - and it is not just about design and content. The speed of your pages is one of the most important determinants of its success. 
What a slow site can cost you?
A slow-loading website can damage your reputation and cost you money because you'll lose out on conversions! If your webpage isn't running smoothly potential customers might think your page isn't relevant or serious enough. Loading speed also increases your SEO performance a lot. Google won't tolerate low-speed pages, and they will be sent down on the ranking list.
If you haven't pay much attention to your speed until now, think about these 8 signs which you may have missed, but they were telling you that your website needs speed optimization ASAP:
The first thing to do, go google your website. If you are not on a first page - you are slower than you should

Compare your loading time with the other websites, if it looks that your page lags in time - you need speed optimization

If you have noticed that your bounce rate is high, that is not a good sign

Your conversion rate is decreasing

You have no positive reviews

Your bottom line is not great

Your investments in marketing are not paying off 

Your results are staying still, or they are decreasing with time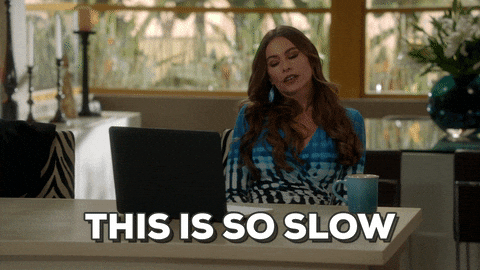 You should also test your storespeed on our free tool testmystorespeed.com and have insight into your loading speed shown in seconds, but if you have noticed at least half of these signs there is only one thing left to do - optimizing your storespeed. If you decide to invest in storespeed, it will cost you a lot less than leaving your website slow. Your goal needs to be 3 seconds or less of loading, or competitors will overtake you and your business will crash. 

The solution
You can try our optimization guide or you can contact our EcomExperts team and we will be happy to do it instead. Remember - only fast websites are good websites, and to be fast and the best have never been easier.